When I was a child, television still went off the air in the wee-hours of the morning. I can remember waking up to the bars and squeal of an off-air television more than once due to illness. Saturday morning cartoons were the best, but weekday cartoons were great, too. And I wanted to grow up to be Jem.
As in Jem and the Holograms. You know, young professional woman who runs a foster-care home by day and is a pink-haired rock singer by night? Her boyfriend is in love with both Jerrica (her real name) and Jem, her fun-loving alter-ego. For some reason she keeps it a secret who she really is and refuses to tell Rio – no joke, that's the bf's name – and is constantly distraught that he is making the moves on both of them. Both of her. Whatever. It drives the plot for the entire series, well, that and the feud with fellow all girl band The Misfits.
No, they're not nearly as hard core as the REAL Misfits.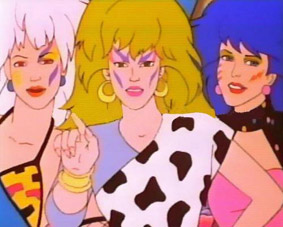 The show was, well, ridiculous, BUT it had a lot of bright colors and minute long catchy songs that to this day I find myself singing. I wonder if kids today have anything similar. I watch the television rarely now, but if I catch a kids' show I'm always amazed at how many flashing things happen and how all that computer animation seems somehow more surreal than poorly synced hand drawn and painted cells.
So, anyway, in kindergarden I wrote that I wanted to grow up to be a fashion designer. The teacher asked who I knew that was one. I said "Jem" (which technically wasn't true, but… kids!). I apparently had a hard time defining reality vs. fantasy. I never went to design school because I grew up and thought, "Humph! what nonsense wanting to design clothes. I'll never make any money with that." Now it turns out that I'm not making much money either way, so what if I had gone to design school?
Maybe I would have made something as Outrageous as these paper doll magnets!